Most important and demanded part of the remote camera control from PC is capture with automatic transfer of the snapshot. Stationary capture is widely used: studio photography, macro imaging, light-box capture, microscopy, capture of hard-to-access places, etc.
The particularity of these applications is in the way how a capture process is organized. A camera is installed and fixed first, and then a photographer starts configuring capture parameters such as exposure, sensitivity, white balance, focus, flash mode, and others. Photographer may makes a lot of preview shots before she or he finds the best settings (or decides to move a camera). All this time a camera should stay stationary, otherwise conditions influencing an image will change and a photographer will need to start configuring camera once again. Automatic transfer of the snapshot under these conditions сan save a lot of time and efforts.
Another important ability for remote capture is live preview from camera viewfinder. Live preview allows selecting the best position before capture, best view of a scene or object, controlling picture quality, and verifying current capture settings in run-time. There is no need to do test shoots with live preview, you can do perfect shots from the first time.
Take a look at different areas where remote capture are used.
---
Identification Photo
Photo identification is widely used in any form of identity document. Most kinds of this documents  includes a photograph of the holder. For example: passports, driver's licenses, student's cards, employee ID card, access cards, badges, etc.
The important thing to remember about such photos is that they should allow inspectors to recognize person when they look at photo. You must follow special guidelines to shoot and prepare photos that can be used for photo identification. Photo must comply with such requirements as size and position of a face, background requirements, face expression, white balance for natural skin color and others. Most of the requirements must be submits in the time of photo is taken. Remote control and capturing directly to PC system for camera can significantly improve speed and quality of the process of taken identification photos.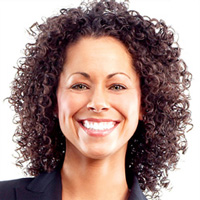 ---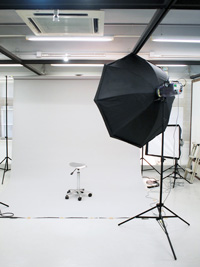 Studio Photography
Ability to control digital camera settings remotely allows to arrange a camera, lighting, PC, and auxiliary tools once and then just perform capture, switching camera settings remotely if needed. It also needed live preview of large resolution shown on PC screen to control scene before capture.
---
Light-box capture
capture of objects placed in a photo light box is often used by the product photographers who shot huge numbers of images for the product catalogues or web-presentations. The light box provides proper lighting for a photography. A digital camera provides the high image quality, and using it remotely may help making a job more efficient and comfortable.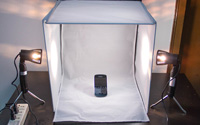 ---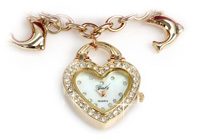 Jewelry Photography
One of most common and important application of the light boxes is jewelry photography used in the jewellery industry to get high quality photos fast.
An object (jewelry, watch, etc.) to be shot is surrounded by the diffused light (also from the bottom) from the pyramid illuminator. It allows to shot pictures free of shadows and reflections, with perfect colour balance, even inside stones and over metallic surfaces. The metal surfaces are shown in their actual colors, the stones exhibit their cut and color in perfect transparency, without annoying strong reflections.
---
Microscopy
Taking digital photographs of the microscopic structures such as spores, cystidia, hyphae, basidia, etc. is often needed to measure these structures with a special measurement software, and it is important to get a sharp and clear image.
Using a digital camera connected to a microscope it is not easy to focus properly just looking to camera LCD screen. Remote control of the camera focus, ability to perform capture remotely, and live preview of the large resolution shown on PC monitor make this task much easier to implement.
Another important feature is the ability of taking several photos in a remote mode slightly varying the microscope focus over the same object in order to assemble them and obtain an image with more "deep of field" like a 3D image.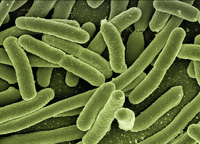 ---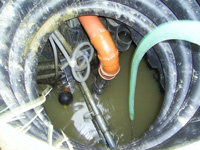 Hard-to-access places
Digital camera remote control can be used for photography in hard-to-access places (pipes, production lines, welding shops, masts, etc.). A camera can be installed either stationary or for making a single photo. In the second case the time lapse capture function can be used to make series of images at predefined time interval. The operator then has an ability to review the shots, make a conclusion on the process conditions, and correct the production technology if necessary.
---
Document photography
The digital copy system consisted of a copy stand and digital camera installed on it provides an ability to make digital copies of books, drawings, documents and pictures faster than scanners do and with the good quality. Digital camera being fixed on the copy stand is difficult to be controlled manually. Remote camera control solution solves this problem allowing to set the proper camera settings and turn camera shutter remotely.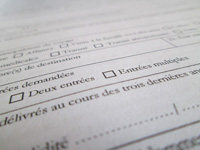 ---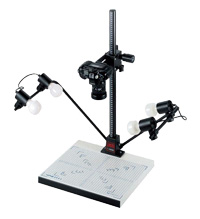 Copy Stand and Macro Imaging
A digital camera can be installed as a part of a copy stand (a device used to copy images and/or text with a camera). The stand consists of a board onto which the media is placed and a tripod-mount parallel to it, usually with an adjustable height. Light is provided by bright lamps mounted on either side of the media at forty-five degree angles. This provides uniform lighting and reduces specular reflection, keeping glare low.
The "camera on copy stand" system can be used for photography of macro objects, e.g. bacteria colonies in Petri dishes, banknotes, bullet cases, fossils, etc.
Controlling the settings of the camera installed on copy stand should be done remotely, because touching the camera by hands may shift the lens or affect other settings accidentally.
---
Astrophotography
A number of applications designed for use in astrophotography that needed a high level of camera control. Through the use of this technics the camera settings must be manipulated. A user must instruct the camera on how to take a photograph of the night sky and celestial bodies. Then snapshots often transfers to graphic editor for annotation or special enhancement.