Controlling a digital photo camera remotely hastens and makes easier your work when it needs to do multiple shots of the same object slightly modifying one or several shooting parameters from shot to shot. Computer program is way that offer users a high level of easy, fast and comfortable camera control. Through the use of the program, the camera settings can be fully manipulated, snapshots can be easily transferred to a PC.
The ability to control how the camera takes the shot depends on the type and model of the camera. Types of camera that might be controlled are:
compact digital cameras
SLR (reflex) digital cameras
All this types of camera only need the USB cable for the program to access and control the camera's settings.
Remote Capture series software is designed for full control of different types of camera from your personal computer. It can work either asTWAIN driver or as the stand alone software.
The main settings that may be controlled from PC: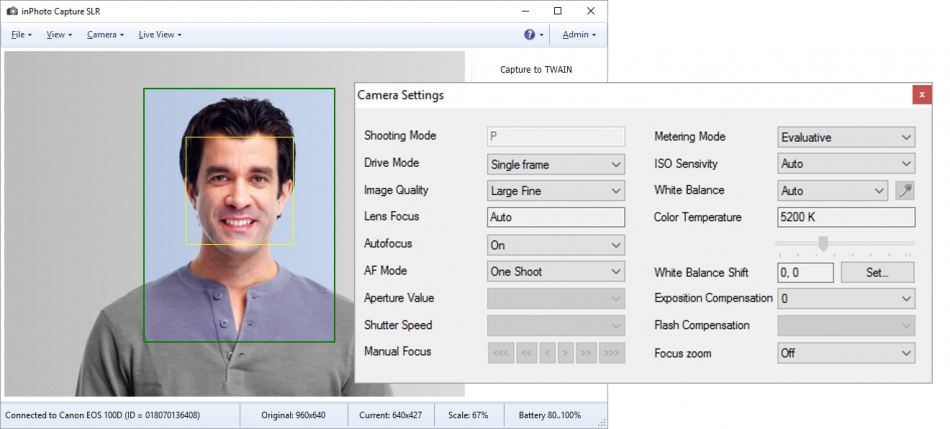 Shooting mode and exposure parameters.
The shooting mode options are defined by the camera model. If you use the sophisticated camera you will be able to select between full automatic usually called Program mode and manual modes. In Program mode the shutter and aperture are set automatically by the camera, otherwise in Manual mode when you have an ability to set both shutter speed and aperture manually. There is also special modes like Shutter or Aperture priority when you have to set manually only one parameter, and the other value will be calculated automatically. Additionally you can play with the exposure compensation values when you capture the dark objects on the bright background to get the maximum image quality. Exposition metering mode is also available from additional exposure parameters.
Image format (size and compression).
Defining the image format and compression allow you to define desired speed and quality of an image. The speed of image transfer to the TWAIN compatible software or saving to file will depend on the selected image format and compression.
Zoom.
To zoom the image in or out you can move the optical zoom slider. This option not available for reflex camera due to technical limitations.
White balance.
You have ability to select the best white balance setting from a list of available options. The image colors will be reproduced better if the white balance is selected in accordance with the lighting conditions.
ISO value.
It is recommended to increase the ISO value if you capture with the high shutter speed or if you want to minimize the risk of image blurring when the camera is shaked.
Focus mode.
Automatic focus is most widely used. Depending of camera type and model it may be only one option, but some cameras have different autofocusing modes. Another options is manual focus. Manual focusing may be done by manual setting focus distance or by setting up focusing zone.
Flash mode and Flash compensation.
The camera flash can be always on or off, or can be activated automatically if the light is too low. The red eye reduction mode is also available on most camera models that have flash option.
Before setting up your own shooting system you must decide what camera control parameters are important or mandatory for you. On this basis you can choose type and model of a digital camera. Whatever type of camera you choose Remote Capture series software can provide you with maximum ability to control your camera.